Introducing John Lewis Travel Insurance
Choose cover that keeps your holiday protected
Your holiday starts the moment you book it, when you imagine yourself lying on the beach, exploring a city or out on safari. And with John Lewis Travel Insurance, you're protected from the start.
John Lewis Travel Insurance offers a choice of policies, so it's easy to find the level of cover you need.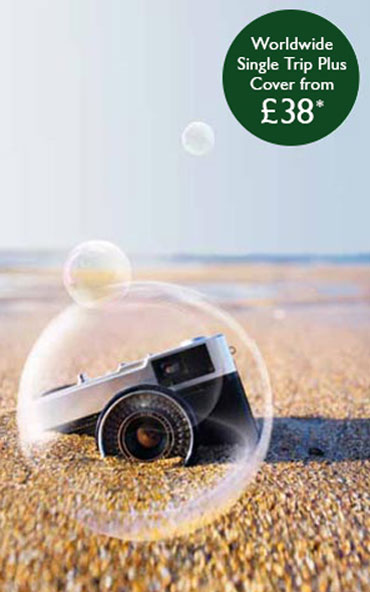 Why choose John Lewis Travel Insurance?
Cancellation Cover – If you have to cut short your holiday, or cancel it altogether, you're covered for up to £8,000 (Premier policy cover limit) per person for any travel or accommodation you've already paid for.
Travel Delay Cover – If you're delayed due to pre-booked public transport, you'll be covered for compensation up to your chosen policy limit.
Cover for personal belongings – If any of your belongings have been lost, stolen or damaged, they'll be repaired or replaced up to the limit of your chosen cover level.
Delayed Baggage – If your baggage is delayed on your outward journey, you could be reimbursed for any replacement items you've had to buy because of the delay, up to your chosen policy limit.
Optional Technology Cover – If you accidentally lose your personal belongings, such as audio equipment, tablets or cameras, or if they're stolen or damaged, they can be replaced or repaired up to a value of £2,500, depending on the level of cover you choose.
24-hour Emergency Medical Helpline – A team of medical professionals will be on hand wherever you are and whenever you need them.
Excess Cap – You and your family won't have to pay more than a maximum of two excesses for any one claim.
Optional extras – Choose additional cover for winter sports, hazardous sports, golf or weddings if you need it.
* - Online Plus Policy for under 49's travelling Worldwide (excluding USA, Canada and Caribbean) for up to 9 days
** - John Lewis reserve the right to withdraw this offer at any time
Kuoni and Voyages Jules Verne are trading names of Kuoni Travel Limited. Kuoni Travel Limited Registered in England No. 395623. Registered Office Kuoni House, Deepdene Avenue, Dorking, Surrey RH5 4AZ. Kuoni Travel Limited is an Introducer Appointed Representative of Ageas Retail Limited.
John Lewis Insurance is a trading name of John Lewis plc. Registered in England No. 00233462. Registered office: 171 Victoria Street , London, SW1E 5NN. John Lewis plc is an appointed representative of Ageas Retail Limited. Registered office: Ageas House, Hampshire Corporate Park, Templars Way, Eastleigh, Hampshire, SO53 3YA. Registered in England and Wales 1324965. Ageas Retail Limited is authorised and regulated by the Financial Conduct Authority. FCA registered number: 312468. Ageas Retail Limited is a member of the DMA and a sister company of Ageas Insurance Limited.