This unique small group tour has an emphasis on getting into the heart of Japanese life. Discover the main attractions of the iconic cities of Tokyo and Kyoto as well as lesser-visited destinations on a fascinating journey across Honshu – Japan's main island. Journey through the breathtaking Japanese Alps and along the coast while enjoying a host of authentic cultural experiences, local traditions and intriguing insights into this captivating nation.
• Tokyo: 3 nights
• Kiso Valley: 1 night
• Takayama: 1 night
• Kanazawa: 2 nights
• Kyoto: 4 nights
13

nights
Escorted Small Group Tour
Escorted Small Group Tour
ITINERARY
Day 1: UK to Tokyo Depart from the UK on your overnight flight to Tokyo.
Day 2: Tokyo Your immersive Japanese experience begins from the moment you arrive where you'll be met by your tour leader before transferring to your hotel by rail and a short taxi ride. This evening you can enjoy dinner at your hotel. Stay: Daiwa Roynet Hotel Ginza, or similar. D.
Day 3: Tokyo Begin your exploration of this fascinating city on foot and by public transport with a visit to the Nezu Shrine and a walk through the traditional neighbourhood of Yanaka where narrow alleyways and winding streets offer a glimpse of how life was during the Edo Period (1603-1868). Continue through Ueno Park and Ameyoko-cho, a street market that began as a black market during post-war Tokyo.

Take the subway to the former merchant district of Fukagawa and visit a small museum. Stroll around the Kiyosumi Teien – pretty gardens with stepping stones over serene ponds – before returning to your hotel. Get to know your fellow travellers during a welcome dinner at a lively izakaya restaurant where you can sample lots of small dishes. Stay: Daiwa Roynet Hotel Ginza, or similar. B, D.
Day 4: Tokyo Begin your day in Asakusa – the home of the Edokko (original residents of Edo/Tokyo) and Sensoji, Tokyo's oldest temple. Explore the surrounding streets on foot and discover a collection of art and antiquities including kimonos and samurai armour at the Tokyo National Museum. Continue to Akihabara, a gadget-lover's dream that's home to an abundance of electronic goods. End your day in the Ginza shopping and entertainment district. This evening you can experience Tokyo's thriving culinary scene by dining independently and your tour leader will be on hand to make recommendations. Stay: Daiwa Roynet Hotel Ginza, or similar. B.
Day 5: Tokyo to Kiso Valley Rise early to transfer by train – including the Shinkansen bullet train (approx. 3 hours) – to the pretty Kiso Valley and the Nakasendo Way – one of Japan's ancient highways that served to link Kyoto with Edo (present-day Tokyo). Visit the Hiroshige Print Museum in Ena, learn about the woodblock printing process and have a go at creating your own.

Visit a local supermarket to pick up some snacks for lunch before continuing by coach to an old post town where you will visit a local history museum housed in a high-class inn. Continue your immersive cultural experience with a night in an excellent modern ryokan, or Japanese inn, with thermal hot spring baths. Ryokans are constructed using centuries-old Japanese methods, with futon bedding and rice paper sliding doors. Stay: Kisoji Iwaya Ryokan. B, D.

Day 6: Kiso Valley to Takayama Visit the historic barrier station of Kiso-Fukushima and continue to Matsumoto (approx. 1 hour) for a tour of the city's castle. Learn about the samurai before admiring spectacular views of the Japanese Alps from the castle keep (weather permitting). Enjoy lunch at a traditional miso manufacturer and learn about the production of this traditional Japanese staple food and seasoning.

Journey through the Japanese Alps to the mountain town of Takayama (approx. 2 hours) where you can experience a taste of modern Japan in a stylish hotel that combines tradition with western conveniences. Enjoy wagyu beef – a local speciality, for dinner at the hotel and don't miss a soak in the rooftop hot spring baths which offer views over the city. Stay: Hiratakan or Best Western Hotel Takayama. B, L, D.
Day 7: Takayama to Kanazawa Explore the historic Jinya – the shogunate's local headquarters, and learn about the town's history. Stroll around the Sanmachi district which is home to traditional shops, cafés and museums. Visit a local sake brewer to learn how the nation's famous drink is made, and sample a glass or two.

Admire the mountain scenery as you continue to Kanazawa via the small village of Shirakawa-go which is famous for its A-framed thatched farmhouses and where motorised transport is banned. Visit one of the houses before and explore the village on foot before continuing to Kanazawa which was spared from large scale bombing during the Pacific War and has retained its traditional charm (approx. 1 hour). Enjoy dinner at a local restaurant. Stay: Kanazawa Excel Tokyu Hotel or Daiwa Roynet Hotel Kanazawa. B, D.
Day 8: Kanazawa Stroll through the old streets of Kanazawa which flourished under the Kaga Clan in the Edo Period. Visit the evocative samurai district and the former pleasure quarters and temples. Stop at Kanazawa's best Japanese inn for lunch and enjoy a feast of kaiseki ryori – a formal multi-course meal. Visit beautiful Kenroku-en – deemed one of the 'Three Great Gardens of Japan' and enjoy some free time to explore the city. Stay: Kanazawa Excel Tokyu Hotel or Daiwa Roynet Hotel Kanazawa. B, L.
Day 9: Kanazawa to Kyoto Travel by rail (approx. 2 hours) to the imperial city of Kyoto. Drop off your luggage at your hotel before an early lunch and stretch your legs with a visit to the 15th- Century Ginkaku-ji (Silver Pavilion) which is set in tranquil gardens. Stroll along the scenic Philosopher's Path, through quiet suburbs, past temples and along a cherry tree-lined canal, to the Heian-jingu Shrine where you'll learn about Kyoto's Shinto roots.

Later, visit a nearby museum to discover the city's rich history of crafts. This evening, stroll through the renowned geisha district of Gion which is home to charming wooden merchant houses and traditional tea houses. If you're lucky then you may spot geishas dressed in all their finery. Enjoy dinner in the evocative Pontocho area. Stay: Royal Park Hotel the Kyoto, or similar. B, L, D.
Day 10: Kyoto A full day of sightseeing on foot and by public transport includes visits to Nijo Castle, Ryoan-ji temple – famous for its meditation garden, and the iconic Kinkaku-ji (Golden Pavilion) which lies on the shores of a picturesque lake. Ride the light rail to Arashiyama, walk through the low hills and visit the tiny picturesque Gio-ji Temple which is set in a beautiful moss garden, and pass Rakushisha, a quaint cottage that was home to one of the disciples of Basho, a haiku master regarded as Japan's greatest poet. Return to the city by train. Stay: Royal Park Hotel the Kyoto, or similar. B, L.
Day 11: Kyoto Today is one of the longest days and also one of the highlights. Take the bullet train (approx. 2 hours) to Hiroshima, a vibrant city with a haunting past. Ride one of Japan's last remaining tram systems to the Peace Memorial Park and museum. Ride a tram to Miyajima- guchi and take a ferry to the beautiful island of Miyajima, a historic site with stunning mountains and red shrines including the iconic Shinto Itsukushima Shrine which is built over the water.

Enjoy an early dinner at an okonomiyaki restaurant where diners sit around a hot plate and choose ingredients for savoury pancakes which are cooked in front of them. Return by bullet train to Kyoto. Stay: Royal Park Hotel the Kyoto, or similar. B, D.
Day 12: Kyoto Soak up the serene atmosphere at Daitoku-ji – a large walled temple complex, and learn about Japanese architecture and zen garden design. Enjoy lunch at a restaurant specialising in shojin ryori – delicious vegetarian temple cuisine, before meeting a tea master and experiencing chado, a traditional Japanese tea ceremony. Transfer by taxi to Nishiki, Kyoto's bustling central market which features over a hundred vendors selling local delicacies, from octopus skewers to tofu doughnuts. Enjoy a farewell dinner and reminisce over your holiday highlights. Stay: Royal Park Hotel the Kyoto, or similar. B, L, D.
Day 13: Kyoto Enjoy time at leisure to before transferring by airport shuttle bus to the airport for your overnight flight to the UK. Alternatively, choose to extend your holiday. B.
---
Stay longer
Tokyo (pre-stay) 2 nights
Spend some time exploring the mesmerising capital before you commence your tour.
Stay longer
Tokyo (pre-stay) 2 nights
Spend some time exploring the mesmerising capital before you commence your tour.
ABOUT THIS TOUR
Is this for you?
This is an immersive cultural experience which allows you to experience life like a local, travelling by public transport and exploring iconic attractions on foot.
Good to know
• All departures are guaranteed
• For guests aged 16 and over (unless travelling on a private journey)
• A good level of fitness is required
• Average group size of 10 guests
• A maximum of 14 guests
• Tipping is not expected in Japan
• The Peace Memorial Park in Hiroshima is currently undergoing renovations which are due to be completed by July 2018. During this time only one of the museum's two buildings will be open to visitors and the number of exhibits will be reduced.
What to expect
• Travel by various forms of public transport including bus, tram, subway and the bullet train, as well as taxis
• Due to a number of steps in and around attractions, exploration on foot (walking up to five miles a day) and spending a night on a futon this tour is unsuitable for those less mobile
• We recommend packing light as you will be require to carry your own luggage on and off public transport throughout the tour (there are no porters in Japan) and luggage space can be limited
• Stay in a mix of modern western hotels and very traditional Japanese inns which feature futon beds and local cuisine
• Hotel rooms can be quite small
• Meals are traditional Japanese style and usually include raw and cooked fish, meat and vegetables
• Special diets including vegetarian and gluten free are not widely understood or catered for in Japan and choices can be limited, please call for further details
• Please note that swimwear is not permitted in the single sex hot spring baths.
Accommodation on tour
Throughout your stay you'll experience consistently high standards and superb service. In the Kiso Valley you'll experience an authentic taste of traditional life and Japan's legendary hospitality with a stay in a modern inn. Slip off your shoes in Kisoji Iwaya, a family-run ryokan, and enjoy traditional features such as futon bedding, tatami (straw mat flooring), rice paper sliding doors and rooftop onsen, or hot springs.

Single travellers
Dedicated departure recommended for single travellers: 23 Apr 2017. Single supplement on other dates from £420
DATES AND INCLUSIONS
Tour dates
All departure dates are guaranteed to operate.

2017 Sep 24; Oct 01, 15


Included in price
• Quality accommodation
• Insightful local tour leaders
• Hand-picked itineraries
• Flexible arrival times
• Small groups and a relaxed approach
• Meals where most convenient (B=Breakfast, L=Lunch, D=Dinner), or the freedom to explore local restaurants independently
• All specified flights
• Transfers on group flights only.
Upgrade your tour
Private tour Upgrade to a private tour with a local tour leader on the same itinerary, departing on the date of your choice from £5198 per person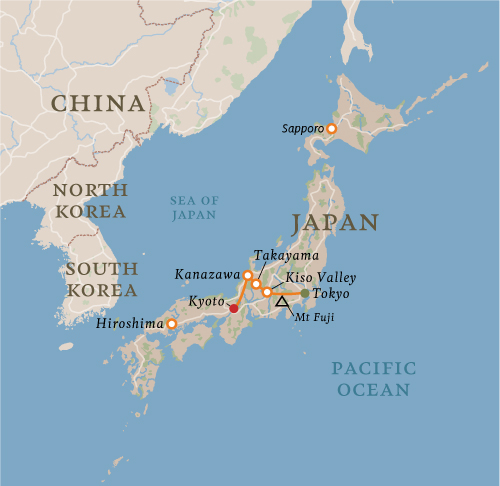 Why Kuoni?
Immerse yourself in the Japanese way of life while visiting the main cities as well as some lesser-visited mountain towns. A day trip from Kyoto to Hiroshima on the iconic bullet train is a great way to experience this key destination without extending your itinerary. Enjoy a taste of the local culture with experiences including sake-tasting with a local brewer, wood-block painting, bathing in hot springs and an interactive okonomiyaki dining experience.