Discover pristine coastlines and intriguing cities on this exotic Caribbean isle
Enthralling, atmospheric and complex are just a few words you could use to describe Cuba. As a former Spanish colony, a pre-revolutionary playground for the rich and famous, and the last bastion of world communism, the Caribbean's largest island has a distinctive character – leave your regular Caribbean expectations at the airport, switch off from the Western world and take it as it comes and you won't be disappointed. Add to this the famous white sand beach resorts of Varadero, Guardalavaca and the Cayos and you have the makings of a unique and unforgettable holiday.
Travel to Cuba
With an unprecedented numbers of visitors now travelling to Cuba, hotels get booked up far in advance. We highly recommend that if you wish to travel to Cuba you book early to avoid disappointment. Prices are beginning to reflect the fact that demand for accommodation on the island is starting to outstrip supply, and due to the nation's undeveloped infrastructure the standards of accommodation are not always up to the standard you might expect elsewhere in the Caribbean.
The city of Havana with its faded grandeur, vintage American cars and boutique and heritage hotels
All-inclusive resorts which range from adults-only hotels to family-friendly properties
Trinidad's town's charming cobbled streets, colonial architecture and laid-back lifestyle
The natural beauty of western Cuba's Pinar del Rio region, which has be described as the 'garden of Cuba'
The island's first settlement and capital Baracoa, which could only reached by sea until the 1960s, is a hidden gem in eastern Cuba.
Best time to visit Cuba
July and August are the hottest while February is the coolest. The rainy seasons runs from May to October, however August tends to be a little drier than other summer months. Rains are generally brief and often welcoming in the summer heat. June to October is the hurricane season throughout the Caribbean.
Cuba holiday highlights
The popular resort of Varadero, which is idyllically situated on a 12 mile stretch of sugar fine sands, is home to the quintessential Cuba all inclusive holiday. Along the coast of the Hicacos Peninsula family friendly resorts with myriad facilities, such as the Paradisus Varadero Resort & Spa, sit side-by-side with adult-only retreats, perfect for those romantic interludes of sheer indulgence.

A natural paradise rich in flora and fauna, The Cayos are many islands and keys strung along Cuba's northern coast, also known as the Jardines del Rey or the 'Gardens of the King'. Perfect fine white sandy beaches and clear aquamarine seas with large coral reefs and abundant marine life make these islands ideal for relaxation. Cuba's native Caribbean flamingos live in the shallow waters that surround Cayo Coco adding an extra splash of colour to those cerulean seas and talcum-white beaches.

Guardalavaca strangely translates as 'guard the cow', a name possibly deriving from an era when cut-throat pirates often raided the area; these days the resort is much more laid-back yet retaining an authentic Cuban charm that many other resorts lack. Just a short drive from the town, which is backed by rolling hills covered by fields of sugar cane, is Playa Esmeralda, an idyllic bay boasting powdery soft sands and azure water tucked away between the Bahia de Naranjo National Park and home to Paradisus Rio de Oro Resort & Spa.

Cultural Cuba
Havana, Cuba's capital city, is simply bursting with character and charm and it possesses a unique allure that fascinates and delights visitors from around the world. Set along a dramatic coastline with a beautiful natural harbour flanked by ports, this designated UNESCO World Heritage Site boasts stunning colonial architecture, vibrant culture, beautiful theatres and an incredible music scene. The classic American cars that dot the streets and the eclectic mix of architecture ranging from colonial to classical to modernist are a throwback to the grandeur and glamour of Havana in the 1950s.

One would be hard-pushed to find a finer example of an authentic Spanish colonial city than Trinidad, a UNESCO listed city which prospered on the back of the sugar industry that dominated the surrounding Valley de Los Ingenios. Today this charming city is a living museum documenting the region's history and culture through beautifully restored 18th and 19th Century architecture and a relaxed ambience that is unmistakable Cuban.

Kuoni's excellent Cuba tours explore those less-frequented and often more traditional corners of Cuba which may be overlooked on the familiar 'Havana and beach' break. Discover the natural beauty and cocoa plantations of Baracoa at the island's far eastern tip; feel the distinctive Cuban rhythms in the once revolutionary city of Santiago de Cuba; witness the beauty of the French colonial city Cienfuegos or learn about the island's historic sugar industry in small city of Remedios.
Good to know
Currency:
• There are two currencies in Cuba - the Convertible peso (CUC) and Cuban pesos (CUP) and you will mainly use CUC during your time in Cuba
• US dollars and US traveller's cheques aren't as widely exchanged as they used to be
• Traveller's cheques are mostly accepted, but not all hotels exchange them – go to an international bank instead
• There's a minimum fee of 8% to exchange currency and 3% on credit card payments.
Flying time to destination:
More facts
When to visit Cuba
Jan

Highly Recommended

Perfect time to escape

Feb

Highly Recommended

Perfect time to escape

Mar

Highly Recommended

Perfect time to escape

Apr

Highly Recommended

Perfect time to escape

May

Recommended

Good time to escape

Jun

Recommended

Good time to escape

Jul

Recommended

Good time to escape

Aug

Recommended

Good time to escape

Sep

Recommended

Good time to escape

Oct

Recommended

Good time to escape

Nov

Highly Recommended

Perfect time to escape

Dec

Highly Recommended

Perfect time to escape

Travelling in Cuba
Although not a luxurious experience, a journey through Cuba is rewarding. And as long as you manage your expectations and arrive with an open mind and flexible approach, we are certain you will have the holiday of a lifetime.
Kuoni Insider

You cannot think of Cuba as another Caribbean holiday, it's a once in a lifetime experience. It has the magic to transport you to Colonial times, The Fifties and then back to modern day.
Picture yourself in a '57 Chevrolet, riding along the famous Malecon to Al Capone's favourite hotel, The Nacional. Watch the sun go down over the bay from a privileged viewpoint in the hotel's gardens while sipping one of Hemingway's favourite cocktails, the world famous "Mojito". Once Havana has been explored it's time to chill out on any one the variety of fabulous beaches to be found all over Cuba. Guardalavaca, Cayo Coco or Varadero, all with their spectacular white coral sands and sparkling turquoise waters. Culture, history, nature or just relaxing, Cuba has something for all to delight in. A definite must to be included in any travel agenda.
Susan Maddock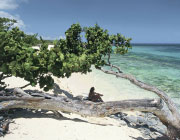 Fly with Virgin Atlantic
You can fly to Cuba with award-winning Virgin Atlantic. Take a look at our latest offers.